No other words can better describe my thoughts about cooking than the famous quote by a famous French chef Marcel Boulestin that- "Cookery is not chemistry. It is an art. It requires instinct and taste rather than exact measurements"
Believe you me cooking is not all that difficult as it seems to be on the surface. I believe cooking has more to do with the process of experimentation that needs to be to be practiced on a continuous basis irrespective of the results whether fruitful or not-until one falls in love with the process and the food cooked by him.
Now for those who haven't even cooked once in their lives or the ones that believed cooking merely equals to "boiling maggi in hot water", you can now rejoice as I too had had the same situation few years back.
I can well relate to your situation that eating out every day can be an expensive affair that not only costs money but your health too.
So, here we are to offer you some help by sharing super easy healthy recipes that you can make in no time and with perfection.
ALOO VEG GRILLED SANDWICH RECIPE
Aloo veg grilled sandwich is a very easy to make healthy food recipe.
One can have it in breakfast or can take it along for lunch at work or college.
This sandwich tastes too good with green chutney or tomato ketchup along with a mug of coffee or tea. This sandwich will feed your hunger and make you feel full for a while.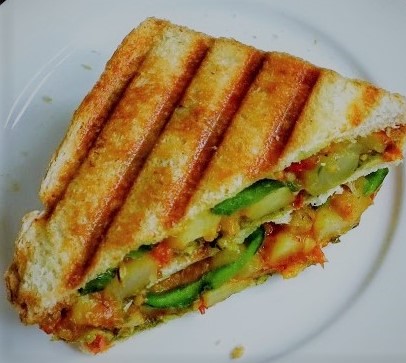 INGREDIENTS:
Potato – You will need 1-2 boiled potatos or Aloos that will be stuffed between the 2 bread loafs.
Cheese – Adding cheese slice is completely your call else you can avoid cheese if it is not needed by you in the sandwich.
Vegetables – You can add any vegetable of your choice such as Onion, tomato, cucumber, capsicum, fresh green chilies, coriander leaves or carrot, however they need to very finely chopped.
Bread- You will need 2 loafs of bread at-least for making 1 sandwich however any sort of bread can be used to make this sandwich whether brown bread or normal bread.
Butter/Ghee – You will need some butter if available else ghee can also be used.
INSTRUCTIONS:
1. First you will need to boil at least 2 potatoes in a cooker and let it heat and wait for 3-4 whistles, after that just mash those boiled potatoes into a smooth paste.
2. Then you need to chop the vegetables into very fine and small shape that fits into the sandwich.
3. Then just mix the chopped vegetables with the mashed potatoes and ensure that the mix becomes really smooth, also add a pinch of salt, some lemon drops and a pinch of black pepper, then again give it a good mix.
4. Then you will need at-least 2 slices of bread (of any sort) and apply melted butter or ghee on its both the surfaces and apply a thick layer of smooth vegetable and the potatoes mix over the bread, also add a slice of cheese over it if you prefer else cover it with another loaf of bread.
5. And then finally place the sandwich in a toaster to be grilled and heat it for at-least 1-2 minutes.
Hope you will like this recipe, also please share your comments over how your recipe came out to be.