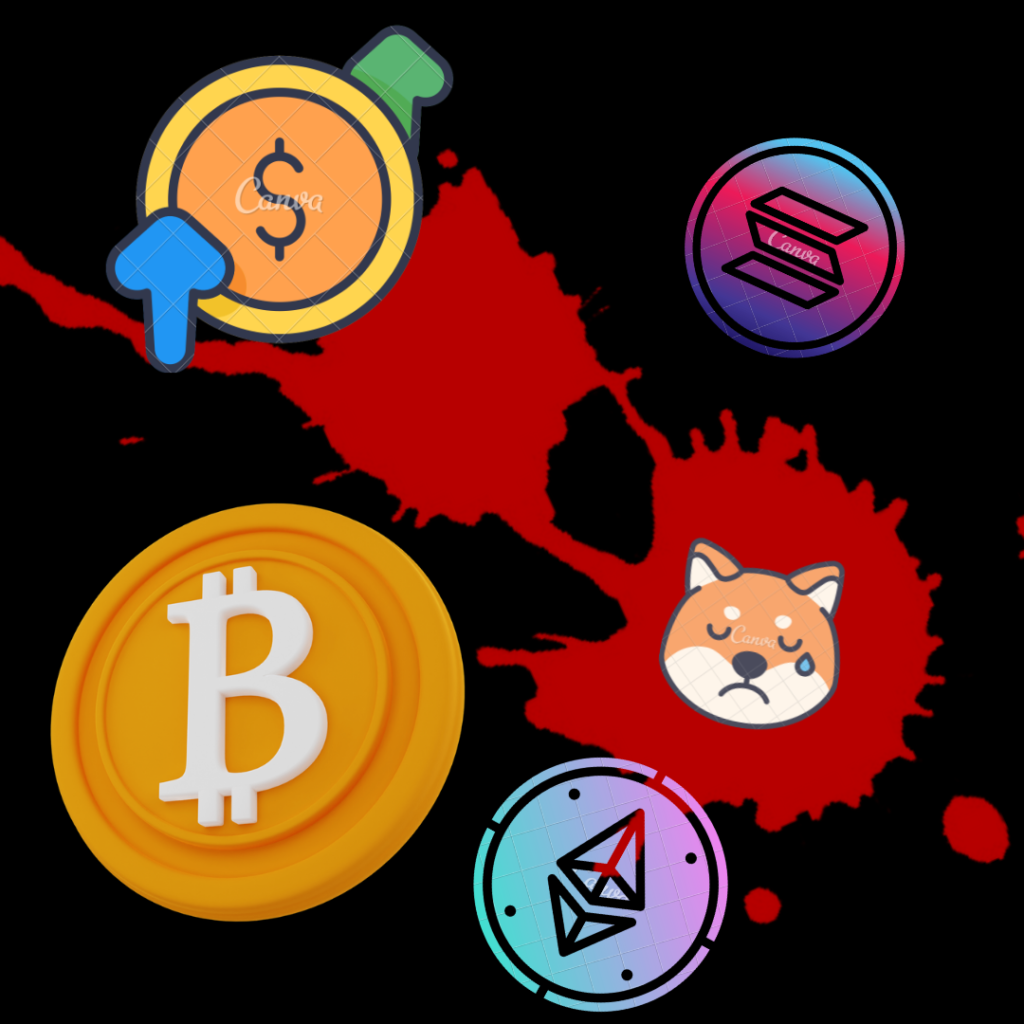 The past few days have been quite testing times for all the crypto investors globally.
The global cryptocurrency market is witnessing a bloodbath in the crypto streets these days.
The global crypto market cap has reached $1.21 trillion which fell by 7.46% down from its previous day's value.
The global crypto market cap peaked in November 2021 with its market cap touching $3 trillion levels, which has now halved from its all-time high levels.
Nearly $275 Bn has been wiped out within a period of 24 hours from the global cryptocurrency market cap.
One of the worst-hit cryptocurrencies was Terra (Luna) also said to be a stable coin because of its value pegged to the US dollar.
Luna was once considered to be one of the most valuable cryptocurrencies which fell by more than 99% in the past 24 hours.
Its market cap has fallen to $500 Mn from $40 Bn, which led its investors to significant losses.
Terra's price peaked close to $120 last month which fostered great enthusiasm amongst its investors to invest even more for handsome returns. But this positive spirit was so short-loved that Terra's value tumbled below $1 in just a few weeks' time.
Few investors even lost a fortune describing this decline to be wreaking havoc in their lives, some have lost their entire savings and just tried to earn a little more money, to be able to afford merely the down-payment amount to own a house.
Bitcoin which holds around 45% of dominance in the crypto market fell by more than 27% in past 1 week making it touch the lowest levels in the past 16 months. Bitcoin's price peaked in November last year at $69K which is now trading around $26K levels. Its market cap at the time of writing this report is around $542 Bn, which peaked in April last year at around $1000 Bn.
According to the news sources the bitcoin investors are likely to lose up to $545 Mn this year because of various reasons like forgetting wallet passwords or making a mistake in recording their "seed phrases"
Experts have estimated that at least 20% of all Bitcoins are lost and the majority of those funds are irretrievably lost.
As per new research by CryptoAssetRecovery.com, between $272 million to $545 Mn worth of Bitcoins will be lost within this year.
Ethereum world's second-largest cryptocurrency has fallen by more than 33% in the past 1 week, Other key cryptocurrencies like Shiba Inu, Dogecoin, Solana, and Cardano have also lost about one-third of their values.
Terra Luna delisted after a 100% fall in the past 1 week
As per the news sources, Terra (Luna) after falling nearly to 100% in the past 7 days has been delisted by many crypto exchanges like WaxirX, CoinDCX, Binance, etc.
The market capitalization of the token eroded from $30 Bn to around $6 Mn during this period.
LUNA started to fall after a similar token UST- another stable coin, de-pegged from $1 after the investors started dumping millions of dollars worth of USTs over the weekend.
UST market capitalization fell from $18 Bn to less than $ 2 Bn last week.
Some Important facts about Terra (LUNA)
Terra is a blockchain-based protocol that uses stable coins that are pegged to fiat currencies to provide a stable payment system globally.
LUNA is the native cryptocurrency of Terra Network and is created by south Korean Terraform Labs.

It is pegged to key currencies like the U.S dollar, South Korean Won, Mongolian tugrik, etc. algorithmically.
What is the reason behind the crypto crash?
There is a bloodbath in the crypto streets owing to high inflation levels in the US, in reaction to which the US federal reserve raised the interest rates. The hiking fuel rates because of the ongoing Ukraine war further dampened the market sentiments which affected the crypto market as well.
Earlier the crypto markets were considered not to be correlated with instabilities in the financial markets but the ongoing situation has forced the crypto investors to draw a relationship between the two.
The unprecedented fall in the crypto market has sent a loud and clear message that the crypto market is no longer insulated from the happenings of the financial market.
Caution and way ahead for the crypto holders
As we know from the very beginning that investments in crypto markets cannot be fully relied upon for assured returns, we should have only invested that amount which is not too significant for us to manage in case it resulted in losses.
However, one must think that ups and downs in the crypto markets are a normal phenomenon and one must be prepared for the losses that suit its appetite, being too much greedy and investing too much than one's financial position permits can be too risky.
Crashes like such have happened before like in 2017 and 2021 but still, the markets recovered back to record all-time high levels.
No doubt cryptocurrencies have led investors into losses but not to forget it has made fortunes for many.
One must follow a diversified strategy while investing in the crypto market. Investments should only be made in those cryptocurrencies that are backed by some purpose rather than investing in meme coins.
Cryptocurrencies to hold or buy in the present correction
1. Solana (SOL):
Solana is the fastest blockchain in the world and one of the fastest-growing ecosystems in Crypto with thousands of projects spanning NFTs, Defi, Web 3.0, and a lot more.
Its price at the time of writing this report is $54.23, with a market cap of around $8.28 Bn.
Solana is a public blockchain platform that uses a hybrid model of proof of stake and proof of history blockchain platform which improves efficiency.
It is also known to be a rival of Ethereum because of its superior transaction speed and lower associated costs.
Solana can handle 50000 transactions per second and is also run smart contracts.
2. Polkadot (DOT):
Polkadot is an open-source blockchain platform-based cryptocurrency that uses a decentralized network.
Its price at the time of writing this report is $11.28, with a market cap of around $11.24 Bn.
It is a protocol that connects the unrelated blockchains together for secure data transfer, i.e. it helps in transferring the data across the incompatible networks for example between Bitcoin and Ethereum.
It is also designed to transfer scalable data with great speed via the usage of many parallel blockchains that take a lot of time.
Therefore, Polkadot serves two functions one is it acts as a governing network where data transfer takes place securely and the network verifies the transaction by issuing DOT.
DOT can be bought and sold like any other cryptocurrency over crypto exchanges.
3. Cardano (ADA):
Cardano is a proof of stake blockchain platform that aims to promote innovators, visionaries, and changemakers to bring positive change globally.
Its price at the time of writing this report is $0.57 and its market cap is around $9.25 Bn.
It uses a method that expedites the time taken by transactions and also reduces the energy consumption involved in the process by removing the competitive and problem-solving aspect used for verification of the transaction as used by platforms such as Bitcoin.
4. Binance Coin (BNB):
Binance coin or BNB is a coin developed by Binance Exchange which is the biggest cryptocurrency exchange globally in terms of the daily trading volume.
Its price at the time of writing this report is $1 and the market cap is around $17.20 Bn.
BNB was initially on the Ethereum network but now it has its own network based on the blockchain known as the Binance chain.
BNB was created as a utility token to pay trading fees but its application has expanded to payment of transaction fees (on the Binance chain), travel ticket bookings, payment for online services, etc.
5. Ethereum (ETH):
Ethereum also continues to hold its strong position at number 2, it has a market capitalization of $252 Bn and its price is $2093 at the time of writing this report.
Ethereum's supply chain model is different from Bitcoin's supply chain model and there is no maximum limit on Ethereum supply, however, its present total circulation in the market is 120,762,249.62 ETH coins.
Ethereum provides a platform for its users to create NFTs & smart contracts online by using Ether as a medium of transaction.
Disclaimer: We don't promote investments in any sort of financial instruments, the above information is only for educational purposes. Investments in Cryptos involve huge risks so, please invest in these instruments after detailed research on your end.