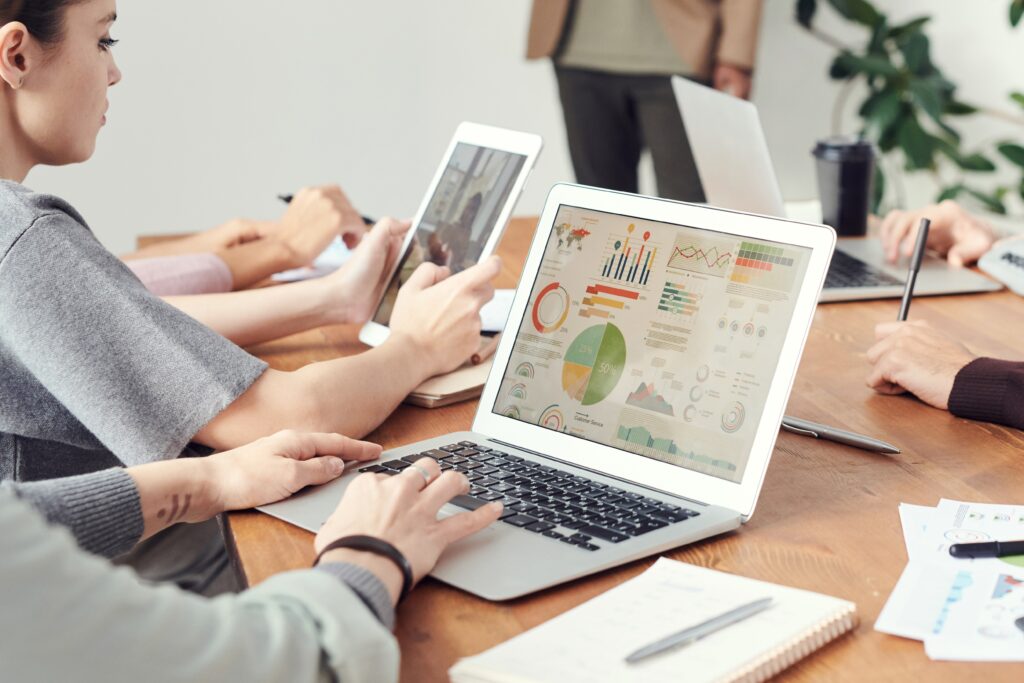 Google provides various useful and brilliant tools like Google Analytics, Google Tag Manager, Google Data studio and many more.
One of the most important and widely used tool by Google is Google Analytics that has a unique capability of website data collection, data analysis, presenting website performance reports, website earning reports and many more.
Google Analytics helps a website or application owner to track the performance of his/her website or application in terms of traffic being aggregated, earnings being made, the source of traffic etc.
Here is a list of 3 most brilliant Google Data Analytics tools:
Google Analytics
It is one of the most widely used tool by almost every website or application owner. This tool is offered for free by Google to track the digital marketing campaigns. For availing the benefit of this tool, one needs to have a google account.
Some key benefits of using this brilliant tool are:
It helps in tracking the performance of a digital marketing campaign run by a website owner.
It helps in finding out the source of the traffic to one's website or application.
Patterns of user engagement can be ascertained through this tool.
It provided important data on the demographics of the traffic.
Google Search console
Google search console is truly a free blessing offered by Google, this tool helps the website owners to monitor, maintain and trouble shoot the website aspects in the Google search results. It helps in diagnosing the SEO issues in one's website, indexing the pages of the website, tracking performance of one's website in terms of clicks, impressions, Click through rate, website traffic details etc.
Google Ads
Google Ads is an important Google analytics tool that offers an online advertising platform. Google Ads enable the advertiser to reach the relevant and right audience and the advertising fee is only deducted when the visitor clicks on the ads.
The ads can be targeted on the basis of location, audience, keywords, duration etc. The advertiser can set limit by restricting the maximum bids and by setting daily budget.
Should you use Google analytics 4 or Universal analytics?

Introduction to Google Analytics 4
GA4 is the new version of Google analytics that combines data from mobile applications and websites. All the universal analytics properties can be updated to GA4 version without affecting the existing GA account.
It is an analytics service that helps its users to measure the traffic and visitor engagement across one's website or application.
GA4 property can be set by a person having an application or a website or even both, one can set up a parallel GA4 account to an existing GA account. This will enable him to collect data from both the sources i.e., in both forms- from GA4 version and from existing GA version.
Having both versions of Google analytics offer the benefit of not losing any data held in existing GA account.
In GA4 reliance on cookies for the purpose of recording events across various platforms and devices will be reduced with the help of machine learning. The machine learning algorithms will help in filling up the spaces between where the user permits to access the cookies and where it disallows to do so.
With the advent of General Data Protection Regulation, the websites require the consent of the user to store cookies to track website performance, this reliance on cookies will gradually be reduced through machine learning algorithms.
GA4 version is future oriented where a major emphasis is laid on tracking the complete user journey in the form of user events rather than tracking user interaction based on sessions as the present case in existing GA account.
Highlights of the new Google Analytics 4
1. GA4 is based on artificial intelligence where the machine learning is used for data measurement using a modeling technique that extrapolates from the existing data and accordingly predict the future user behavior.
2. GA4 is future oriented and works on Artificial Intelligence instead relying on traditional cookies collection method.
3. Google Analytics 4 is based around an event-based model, but Universal Analytics is based on session-based data model. GA4 is actually a different and a new version to Universal Analytics and it works on event-driven-based models.
4. GA4 has an event based measurement model that tracks metrics like pageviews as events that trigger data tracking.
5. GA4 creates a single journey from all the data that is related to a single user ID, it helps in providing lot of valuable information for optimization of the website.
Also Read: Googles Question Hub- Brilliant tool for Bloggers
Also see below informative web stories:
Porshe 911 GT3 Debut latest review
Wednesday- Official trailer released
Free Fire Max Redemption Codes 2022- In Hindi
Free Fire Max Redemption Codes 2022- In English
Xiaomi 4 legged Cyberdog launched
Games to Play on your browser for free