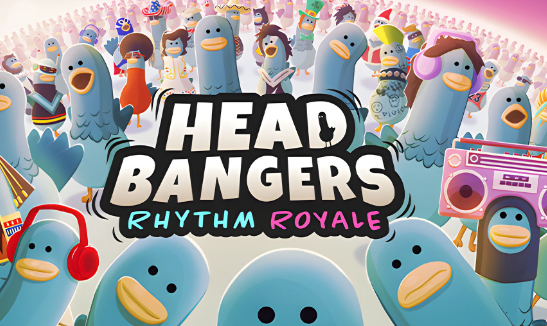 Discover the exciting world of Headbangers: Rhythm Royale, a rhythm-based battle royale game developed by Glee-Cheese Games and published by Team17. Set to launch in 2023 on PlayStation 5, Xbox Series, Switch, and PC (Steam), this game offers thrilling gameplay where you compete against 29 other players in rhythmic challenges to prove yourself as the ultimate Master Headbanger.
Get- Hi Performance Advantage Edition Powerful Gaming PC in 2023
Engaging Mini-games
Experience mind-bending musical mini-games that will put your memory, rhythm, reflexes, reaction time, and rap ability to the test. With simple controls and captivating gameplay, Headbangers: Rhythm Royale is accessible to players of all skill levels.
Headbangers: Rhythm Royale Reveal Trailer 2023
Customize Your Pigeon
Unlock the opportunity to customize your pigeon with hundreds of unique items, including outfits, hats, glasses, voices, taunts, and more. Mix and match these items to create your own one-of-a-kind pigeon masterpiece, reminiscent of renowned artists like Pigecasso and Michelangelcrow.
Cross-Platform Multiplayer Madness
Gather your friends and embark on the ultimate mini-game mayhem with online cross-platform multiplayer support. Whether your friends are playing on PlayStation, Xbox, Switch, or PC, you can join forces and battle it out to determine who will be crowned the Master Headbanger.
Exciting Progression
Earn Crumbs, the in-game currency, as you play and use them to unlock further customization options for your pigeon. Complete challenges, utilize in-game powerups, and excel in bonus rounds to earn even more Crumbs and XP. Progress through the battle pass system to unlock exclusive rewards and showcase your style as the most fashionable bird in the flock.
Fun and Accessible Gameplay
Headbangers: Rhythm Royale offers a lively and engaging experience, combining catchy music, thrilling mini-games, and customizable pigeons. It's designed to be enjoyable for players of all ages and skill levels.
Join the Rhythm Revolution
Prepare to immerse yourself in the rhythmic chaos of Headbangers: Rhythm Royale. Show off your skills, dominate the leaderboard, and prove that you have what it takes to be the ultimate Master Headbanger. Get ready to rock and roll!
Also Read: Best Necromancer Tips in Diablo 4 – A Beginner's Guide, How to Defeat Butcher in Diablo 4?