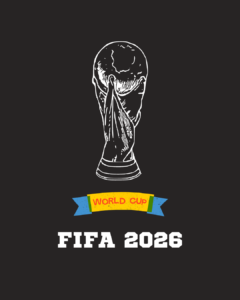 The Qatar 2022 group stage is barely over, and FIFA is already planning the next FIFA World Cup 2026 , which will be hosted for the first time by three nations: Canada, the United States, and Mexico. The tournament, which is still three and a half years away, will have a game increase. The reason is said to be to make a bigger show and, obviously, to generate more money.
To that end, the world's top soccer governing body intends to change the tournament's format to include a total of 104 matches over the course of the competition.
The knockout stage features 32 teams.
According to The Guardian, FIFA will abandon its original plan of having 16 groups of three teams each for a 12-team group phase.
The 32 teams are currently divided into 8 groups of four teams each, with the first and second place teams in each group advancing to the round of 16.
Total of 104 matches

With this change, the 2026 World Cup would have 104 matches, 40 more than the Qatar 2022 World Cup, including Group Stage and Qualifiers.
According to The Athletic, FIFA is considering a penalty shootout to determine a winner in case of a tie in the group stage, and there will be a much clearer tiebreaker than those currently used, where even the number of cards or even a tombola can define the ticket to the second round.
How would the 2026 World Cup structure operate then?

The 48 qualifiers would compete in 16 groups of three, with the top two from each group moving on to a round of 32. This is the proposal from the governing body. The 64 games remaining in the present format would be reduced to 16, however the 16 teams eliminated at the first round would only play twice.
It was also disclosed this week that FIFA is considering a sickly-sweet idea to appeal to the American audience, for whom ties are anathema, by introducing penalty shootouts that will provide an extra point.
Three-team groups have previously received unanimous approval from FIFA's council, but there is mounting pressure for them to reconsider and go with a 12-group, four-team format. Following this week's action, the campaign for four-team groups is gaining traction. Except that this will cause the tournament to be extended by several days, resulting in eight of the best third-placed teams still making it to the knockout stages.
In North America in 2026, how many locations will each Confederation have?

FIFA World Cup 2026 will award 16 more tickets than previously. One of the most advantageous Confederations will be CONCACAF, which will have three additional qualification slots in addition to the three direct tickets for the hosts. The breakdown by confederation is as follows:
UEFA: The number of available tickets will be increased from 13 to 16.

CAF (Africa): nine direct tickets and one-half ticket via play-offs.
CAF (Asia): 8 direct tickets will be available.

Conmebol: Six direct tickets and half a ticket via Play-offs

CONCACAF: Three direct tickets (in addition to the hosts' three) and a half-quota via the Play-offs.

OFC (Oceania): It will have one direct ticket and half an additional ticket via the Play-offs for the first time in history.
FIFA World Cup 2026 Venues

There will be 16 stadiums utilized, with the majority in the United States and distributed among the three host nations. The championship game will be held in New York.
Eight of the stadiums feature artificial turf, which will need to be replaced even though no new stadiums are being built.
USA(11): Atlanta's Mercedes-Benz Stadium, Boston's Gillette Stadium, Dallas' AT&T Stadium, Houston's NRG Stadium, Kansas City's Arrowhead Stadium, Los Angeles' SoFi Stadium, Miami's Hard Rock Stadium, New York/New Jersey's MetLife Stadium, Philadelphia's Lincoln Financial Field, San Francisco's Levi's Stadium, and Seattle's Lumen Field are among the eleven stadiums in the USA.
Canada (2): BC Place in Vancouver and Toronto's BMO Field.
Mexico (3): Estadio Akron in Guadalajara, Estadio Azteca in Mexico City, and Estadio BBVA in Monterrey.